Back To Menu
Charbroiled New York Cut Steak
UsdaChoice steak topped with an onion ring
(Select 1) Temperature:
Rare
Medium Rare
Medium
Medium Well
Well Done
(Optional) $$ Extra:
Three Fried Jumbo Shrimp
+$5.99
(Select 1) Side:
Cup of Soup
Salad
(Select 1) Potato Choice:
French Fries
Baked Potato
(Optional) Dressings:
Caesar
Ranch
Raspberry Vinaigrette
Vinaigrette
Cilantro
Sesame-ginger
Bacon
Have you tried this item? Pop it!
Help other diners know what to expect by sharing your experience.
Photo Gallery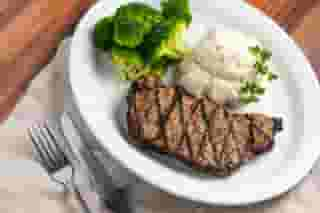 Back To Menu
Charbroiled New York Cut Steak
UsdaChoice steak topped with an onion ring
(Select 1) Temperature:
Rare
Medium Rare
Medium
Medium Well
Well Done
(Optional) $$ Extra:
Three Fried Jumbo Shrimp
+$5.99
(Select 1) Side:
Cup of Soup
Salad
(Select 1) Potato Choice:
French Fries
Baked Potato
(Optional) Dressings:
Caesar
Ranch
Raspberry Vinaigrette
Vinaigrette
Cilantro
Sesame-ginger
Bacon
  Back To Menu