Back To Menu
Charbroiled New York Cut Steak
UsdaChoice steak topped with an onion ring.
Add three fried Jumbo Shrimp $5.99
(Select 1) Temperature:
Rare
Medium Rare
Medium
Medium Well
Well Done
(Optional) $$ Extra:
Three Fried Jumbo Shrimp
+$5.99
(Select 1) Potato Choice:
French Fries
Baked Potato
(Select 1) Side:
Cup of Soup
Salad
(Optional) Dressings:
Caesar
Ranch
Raspberry Vinaigrette
Vinaigrette
Cilantro
Sesame-ginger
Bacon
Have you tried this item? Pop it!
Help other diners know what to expect by sharing your experience.
5 people have popped this item
Photo Gallery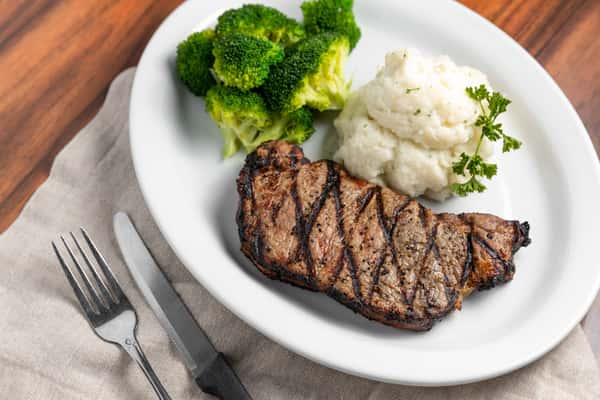 Back To Menu
Charbroiled New York Cut Steak
UsdaChoice steak topped with an onion ring.
Add three fried Jumbo Shrimp $5.99
(Select 1) Temperature:
Rare
Medium Rare
Medium
Medium Well
Well Done
(Optional) $$ Extra:
Three Fried Jumbo Shrimp
+$5.99
(Select 1) Potato Choice:
French Fries
Baked Potato
(Select 1) Side:
Cup of Soup
Salad
(Optional) Dressings:
Caesar
Ranch
Raspberry Vinaigrette
Vinaigrette
Cilantro
Sesame-ginger
Bacon
Back To Menu